Posted by:

Jabran Kundi
Post Date:
May 16, 2023
---
Apple Inc. now worth more than the entire Russell 2000!
Jabran Kundi
Apple Inc. (AAPL:US) achieved another milestone on Monday as it continues to go higher and higher. Its market cap has surpassed the market cap of the entire Russell 2000 index for two weeks now!
For some perspective, the Russell 2000 index contains 2000 small-cap stocks. Apple is now bigger than all those stocks combined, a milestone it last achieved in 2020, though that lasted only a single day.
This time though, the lead is lasting longer. And the reason is simple. While the small-cap stocks haven't performed all that well so far this year, Apple is up 32% YTD! This is mainly because of an expectations-beating quarterly report that sent the iPhone maker's stock soaring.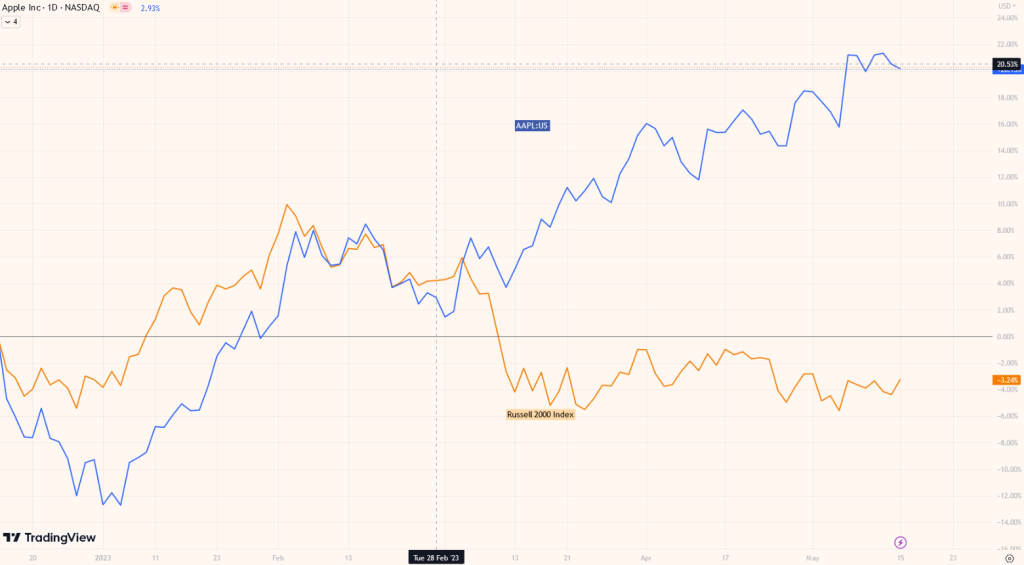 As is evident from the above chart, the RUT index has traded sideways while AAPL has returned about 32% YTD.
What is Market Capitalization?
The market capitalization of a company is the total market value of all its outstanding stock. It is calculated using the current share price and the shares outstanding.
Since this value is calculated using the share price, the value is determined by the stock market, not the company itself.
Why is AAPL stock going higher?
The company announced its quarterly earnings recently and exceeded wall street expectations in terms of its iPhone business growth.
This growth in the iPhone segment made up for the loss in Mac sales and the earnings surprised to the upside. In addition to that, the company announced buybacks and dividends, which further boosted its price.
With all that, Apple's market cap is now $100bn more than the entire value of the Russell 2000 index.
But will it stay that way? Probably yes. And it has everything to do with how the Russell 2000 index is designed.
Once a company exceeds a certain value, it is removed from the small-cap index. This means that to counter Apple's increasing market cap, most of the companies in the index will have to grow simultaneously, without exceeding the threshold for removal from the index. That is unlikely to happen in the current environment. So Apple can enjoy this feather in the cap for some time.